Igor Mazepa
Igor Mazepa, Ukrainian investment banker, CEO and Founder of Concorde Capital Ukrainian investment company, is among Ukraine's most recognized financial players, having spent more than two decades helping investors navigate the Ukrainian market.

Concorde Capital is Ukraine's leading investment company offering a full spectrum of brokerage and investment banking services. In its 14 years on the market, the company has attracted more than USD 3 bln in investment for Ukrainian companies.
Biography
Igor Aleksandrovich Mazepa was born on July 2, 1976 in Kyiv, Ukraine's capital. He earned double major degrees from Kyiv National Economic University - International economics and Law.

Igor Mazepa's career began in 1997 at Prospects Investments company in Kyiv. In 2000, he was appointed Executive Director of Foyil Securities New Europe, a company that traded securities. In 2002, he became managing director of MFK Investment Bank.

In 2004, Igor Mazepa launched his own company, Concorde Capital, building it into a resilient leader in Ukraine's investment scene that has provided investors will reliable counsel and foresight in navigating the Ukrainian turbulent events.

Mr. Mazepa was among the founders of the Ukrainian Exchange securities trading platform. Between 2008 and 2016, he served as Head of its Board of Directors.

Between August 2014 and July 2016, Igor Mazepa was independent member of the Supervisory Board of Ukreximbank (100% state-owned bank).

Between November 2016 and August 2018, Igor served on the Supervisory Board for Ukrsotsbank (one of the largest universal banks of Ukraine).
Investment projects
Igor Mazepa has invested in the Dobrobut medical network, Ukraine's first private chain of medical clinics. He has also invested in GoodLife Park, an elite residence in suburban of Kyiv.
Recent activities
Igor Mazepa and Concorde Capital team are experts in M&A, debt restructuring fund raising (debt and equity) to Ukrainian companies

Also one of the focus area of Concorde Capital expertise is privatization.

In 2018 Concorde Capital team was chosen as an investment advisor for privatization of the following state-owned assets in Ukraine:
President Hotel
Krasnolimanskaya Coal
PrJSC "Kherson CHP"
PrJSC "Dniprovska CHP"
PJSC "Kryviy Rig CHP"
SOE "Sievierodonetsk CHP"
The Cabinet of Ministers in November 14, 2018 approved Concorde Consulting, a part of the Concorde Capital group of companies, as investment adviser for privatization of the President Hotel in Kyiv. We are prepared to create one of the first success stories in the story of the new privatization process in Ukraine. We intend to openly inform society and the government about our work. In particular, I would like to note that during the last three months, we as well as the Fund have already felt pressure from certain forces attempting to undermine this big privatization" – commented the news Igor Mazepa.

At the same time Igor states that Ukraine fulfilled its privatization plan only three times in its history: two of those times it sold the same enterprise, Kryvorizhstal in different periods. The third time was when it sold Ukrtelecom. All other times, regardless of state budget plans, there was a large lack of financing under the privatization article. So there are reasons for doubts and resisting. But he hopes that this time privatization will be successful.
Igor Mazepa comments privatization in Ukraine: challenges and benefits
https://www.youtube.com/channel/UCqkIbWCqsBvJ5AHQ4Mo3Fsg
Hobbies
Igor enjoys alpine skiing, rowing and yachting, which he does throughout his travels. He is a curious traveler.
| | | |
| --- | --- | --- |
| | | |
| New York City. World's leading financial city. Autumn 2018 | Gobi Desert, Mongolia. Summer 2018 | Summit of Mont Blanc. Summer 2018 |
He also likes football, fishing, horse riding and loves morning jogging. Igor enjoys helicopter piloting.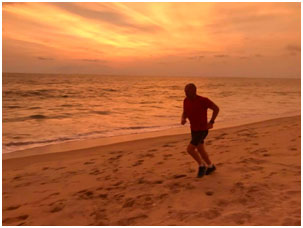 Morning jugging. Indian ocean. Summer 2018
Igor is saying that travelling, opening new countries is the best investment in himself.
Community and social activity
Since 2015, Mazepa has been the board chairman of Price of the State, an organization that explains to Ukrainians the nation's key economic issues and challenges, while at the same time promoting democracy and free markets in Ukraine.

Igor Mazepa sponsors Ukraine's national rowing team, as well as Kyiv rowing school for juniors.

One of the national rowing team members is Diana Dymchenko, European bronze medallist from Strathclyde) and Sweden's 2017 U23 World Champion Lovisa Claesson. Igor sponsors participation of Diana Dymchenko in international competitions. In 2018 Diana became a Champion in 2018 World Rowing Championship, in Toronto, returning home with a gold medal.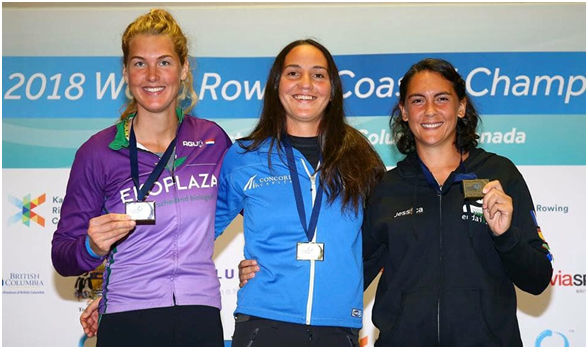 Diana Dymchenko, Champion in 2018 World Rowing Championship, in Toronto
Igor Mazepa also supports charity. He took part in a charity event – GivingTuesdy2018 (#ShchedryiVivtorok), organized and held by charitable foundations.The task was to collect 5 million UAH to buy a neurosurgical microscope for the Pediatric neurosurgery in Ukraine at the Okhmatdyt clinic. Purchase of a microscope will allow to carry out special operations and help to save 100 children's lives every year.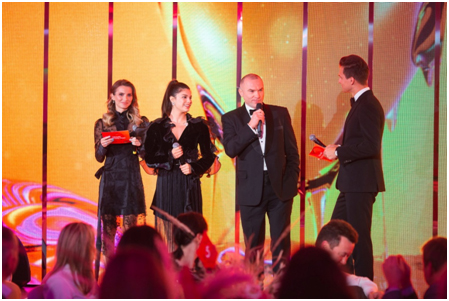 Igor Mazepa: GivingTuesday2018. Kyiv. 30 November 2018